"I want to wake up everyday I have left to the warmth or your lips on mine, the sound of your voice singing next to me, the feel of your fingers on my skin and your heart beating music with mine."
Holy Sexual Tension!
I love the sweet, vulnerable and loving Shane but the hot, sex-kebab Shane…
His eyes slowly crawled over my body and my heart was pounding hard in my ears.
This picks up right where we left of in [b:Fall From Grace|15768536|Fall From Grace (Mad World, #1)|Christine Zolendz|http://d.gr-assets.com/books/1349538226s/15768536.jpg|21474681].
Grace has found her angel and is residing in the sexy, tattooed singer, Shane Maxton. But just when they find each other, Gabriel comes and messes everything up. Now Grace has to fight for her life, and make her way back to Shane.
"I never needed someone the way I need you."
Grace is just as hilarious as she was in book one. The way she never gave up on her love for her angel (before she knew it was Shane) was commendable. She believed in everything they were her whole two thousands years of existence.
Shane was still a tantalizing as before, but now we get more of the one-woman man side of him. However, this was Shane, so he did make some mistakes but once he opened up his mouth and apologized, I easily forgave him.
"Grace Taylor, I am going to kiss you right now and you are not going to run away from me, because you have no excuse now. Then you are going to go back upstairs to bed and all your going to think about are my fucking lips on yours and nothing else. Not strange men that want to hurt you, or buy you drinks, not Ryan, not Tucker, not even Ethan. I swear to you, Grace, I will not let you think of anything or anyone else until I put my lips back there again."
Even with the discovery that Shane was her angel, there were still many problems that kept them apart. This was good because they really got to work through everything before getting too involved.
The side characters were amazing! I loved the rest of the band and how supportive and protective they were with Grace. And I always looked forward to a scene with Lea.
"Look Gray… a decent guy doesn't just get born and grow up to be Mr. Perfect. They need to be created by a woman. They're like a dumb black lump of clay and you have to mold them into what you want them to be, while erasing everything their mothers ever taught them and all the horrible internet porn they've watched growing up.
There were a few setbacks for me. Some things were poorly explained. Like I wrote in my review of
Fall From Grace
I wanted all the paranormal stuff to be more elaborately explained. There were a few gaping holes that were never closed.
Another thing (and this may seem insignificant but for some reason it annoyed me) Connor was barely featured. He was still mentioned a few times but Lea is a big part of Grace's life, and Connor's a big part of Lea's life, therefore, I thought we should have seen more of him.
There is a beautiful,
swoony
Happily-Epilogue-After.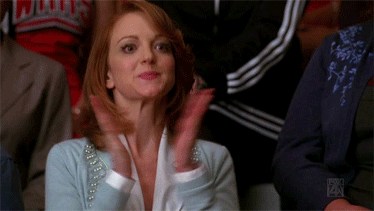 "Then let me in, because I promise you, I will pick up every little broken piece of you, every single fucking piece, Grace, and for the rest of my fucking life I will put you back together...
I'll make you whole again."